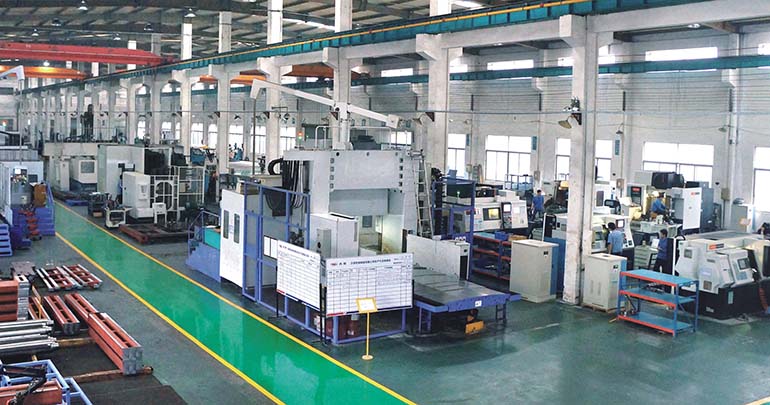 Professionlism is exprssed by detail.We strictly control the machinery quality by controlling the quality of each part.Dependent on the advanced CNC machining center,we are able to research & develop and manufacture the machinery that can meet customer's high technical requirements.
1. Part processing
1)Advanced CNC machining equipment is imported JAPAN.The company,which boasts 128 pieces of machining equipment (including 22 pieces of high-end elaborate NC equipment and 24 scientific research facilities and instruments),has the conditions for manufacturing,processing and assembly of complete set paper packaging machinery.
2)High-quality raw materials are adopted to ensure the precision and hardness of each part.
3) Through precision test,strict quality test and performance test are performed for finished parts.
2. Assembly of complete machine
The standard assembly mode guided by 3DVi is adopted,producing high-precision and high-quality products for customers.

3. Mitsubishi pentahedron machining center(MVR30)
1)Realize the high-precision and multi-procedure combined machining for large-scale pentahedron.
2)Complete the precision combination of drilling,milling and boring of 5000mm*2000mm plate,box and frame.
3)Complete the processing of key parts of corrugation line.

4. Horizontal machining center imported from Japan
1)60-knife library,wide double-station horizontal machining center.
2)Complete the processing of various special parts,high-precision polyhedron parts and boxes based on multi-shaft combination,NC linkage effect and extension function.
5. MAZAK turning-milling compound machining center cluster imported from Japan
1)Complex high-precision part can be processed at a time.
2)Complete coaxial reducing and variable lead special machining.
3)Realize double-spindle exchange,turning-milling compound high-efficiency machining.