Division I participated in the Fifth China International Paper packaging industry corrugated carton
Publisher: WANLIAN Packing Mechanics CO., LTD. Time:2015-6-17 17:47:01
  On September 15, 2012, by the China Packaging Federation of paper products packaging Committee, Shanghai Hua Ning culture media Co., Ltd., and Shanghai Printing Industry Association, Shanghai Packaging Technology Association, Suzhou City, the printing industry association and Wenzhou Printing Industry Association jointly organized the "Fifth China International Paper industrial packaging corrugated color box packaging printing Exhibition", "China International Eastern printing technology and equipment exhibition" and "the second session of the China International Printing and packaging products show fair" concluded satisfactorily in Suzhou International Expo Center, becoming the second half of the most innovative, the most powerful paper packaging industry and printing industry event.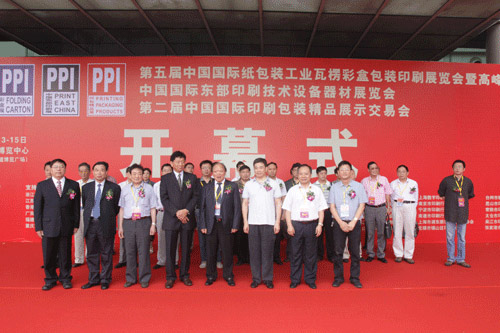 Degradation which can reach the top two industry event fully integrated fully reflect the "scientific and technological innovation, green printing and packaging" this theme, for three consecutive days of exhibition, a total of more than 300 exhibitors, nearly 600 top equipment to participate in the exhibition, the exhibition a total area of more than 30000 square meters, an exhibition of products made of corrugated cardboard boxes, cartons, paper bags, paper packaging printing machinery equipment and new materials as the main body, advocate green, environmental protection, low carbon, 100%, 100% can be repeated use, truly reflect the sustainable development, the event attracted more than 10000 people in the overseas visitors come to visit and purchase, become a veritable Chinese paper packaging industry procurement trading platform.
  Bosch's top companies both at home and abroad, Buddha ", Japan salz kammer gut, MingWei group, xu group - kunshan association Yang, seiko, Wanlian, jinchang, xijiang,fuli, pioneering, Qatar, jin xing, the utility precision printing on the jersey, sunlight, rush hin, huang, operation, sanxin, OTT, xin tian, Czech, Po industry, industry hin, golden concord, the yue, yu tai, solid, the Ming hui, road jia, nine bin, wing fai, city hall, JiXing, companies such as light, the letter, warp/weft exhibited on the scene of the most brilliant corrugated board production line, single-sided tile lines, water-based printing equipment, printing matching equipment, as well as the corrugated roller, anilox roller, vertical and horizontal cutting machine, stacking machine, automatic control system, plant logistics system and other new products and new technology, for the cartons enterprises with the whole industry chain of the overall solution, customized for production equipment; Bosch, Eva, xu heng seiko, yao branch, China, Wen Hong, DE steel, sincere letter far, tanabe, macro view, sichuan, modern domhke, root, furrow, beneficial litres, Della far, jia jie, morita, new league, bao heng, gold leaf after printing enterprises gathering in suzhou, live demonstrations hot stamping, die-cutting, pasting box pasting box, nail box, glazing effect, the latest equipment such as pasting materials; Kodak, Eva, Della root, kang, cen, Warwick, even the day new, health industry, hin lung, a large number of yuan a supervision code, laminating, printing and packaging solutions leading supplier, compete, show the latest machinery, equipment material, has become a spotlight exhibition; Bag, wang bo is, Fang Bang is at the scene shows the international leading level, the concept of green environmental protection bag making machine.

  Of particular concern is that Wenzhou Printing Association, the coagulation culture jointly organized by the Wenzhou area more than 50 major brands, such as the following, Warwick, Jinbao, Zheng Run, dragon more, enlightenment, is Bo, Dayuan (Ruiyang), science, Haiyan, Lixin, South Fort, Oriental, and joint exhibition, they also at the scene show the printing and packaging users to display the most practical, the most advanced, high quality, high grade of box, color box, color printing, bag, and so on related technology, equipment, supplies and products.
  The exhibition, exhibitors generally satisfied, many enterprises to carry equipment field display effect is good, the equipment has sold an empty, the site also reached a lot of orders, after the show to continue to track the number of specific orders. They think in PPI corrugated box every year can achieve results, PPI corrugated box every year can make great progress, and said that next year will continue to unswervingly continue to support the exhibition of Hua condensate.
  Again the exhibition received support package xiehe printing association, across the country, not only by the China council for the package and paper setting and China culture, BaoXie printing association, Shanghai, suzhou and Shanghai printed Concorde wenzhou association jointly participate in host, more from Hong Kong, China, zhejiang, jiangsu, guangdong, fujian, jiangxi, henan, chongqing, tianjin, Beijing, hainan, hubei, hunan, shanxi, shandong, liaoning, gansu, shaanxi, qinghai, sichuan, chengdu, nanjing, guangzhou, dalian, China united electronic packaging committee, the China council for the package and packaging and printing, ningbo, wuxi, changzhou, yangzhou, wenzhou, jinhua, Qingdao, suzhou, dongguang BaoXie around, as well as jiangsu, zhejiang, anhui, fujian, jiangxi, shandong, Shanghai digital printing association, nanjing, ningbo, nantong, Shanghai, wuxi xishan, taizhou jiaojiang, kunshan, changshu, taicang, wujiang, zhangjiagang printing association's strong support and participation of more than 50 BaoXie association, seal, and electronics, food, medicine and other terminal association organized many very powerful enterprises to visit local procurement, to expand the influence of the exhibition, and contributing to the development of exhibition.
  In addition to the scene shows a series of top equipment and consumables, organizers and the relevant units conform to the market and industry development trend and planning a series of excellent professional activities. "China international corrugated board production line technology application and development prospect of summit", enterprises and industry experts discussed how To develop the production technology and equipment using standard, saving energy and reducing consumption, improve the production efficiency, improve the added value of products, To promote the sustainable development of the enterprise "2012 food and drug in Yangtze river delta electronics packaging users purchasing exchange fair" and "Chinese medicine electronic supervision code applications seminar" on issues such as "creative drive the industry development" speech, upstream and downstream enterprises in the field of "Face To Face" supply and demand both sides one-to-one negotiations, and provide the electronic supervision code printing package solution and optimization; "China international science and technology innovation, green printing and packaging peak BBS", focusing on "green packaging and printing technology; "Global green packaging requirements and enterprise solutions seminar", focusing on global packaging material typical green analytical and green packaging requirements of enterprises and enterprises deal with the influence of etc. "The development of Chinese paper industry top 100 entrepreneurs strategic dialogue", seek the sustainable development of enterprise and industry, focus on innovation and reform, advancing the ability of the enterprise's own innovation, realize the development of globalization and sustainable development of the enterprise, to make our packing powers work together.
  

"' the Ming hui cup '2011-2012" top 100 of China paper industry awards open again, broader, more influence. At the same time first blockbuster launch "China paper industry ten outstanding entrepreneurs" selection activities. Key suppliers at home and abroad, color, printing and packaging enterprises, a cardboard-box factory and was voluntarily participate in the selection, eagerly anticipates the enterprise, promote the development of China's paper industry brand, quality strategy, the awards ceremony on September 13 at suzhou pine crane tower park hotel held a grand, more than 800 entrepreneurs in the feast. Heidelberg, Bosch, MingWei companies such as suppliers, as well as, reference, mansion of xing carton color box manufacturers together, reveal the top enterprises. Group chairman of the board of Fang Wu school, Seneca international group chairman Ma Weiwu ten outstanding entrepreneurs is also a star-studded, reveal the paper industry's proud achievements of entrepreneurs.
After five years of development, "China international paper industry exhibition of corrugated color box" and "east China international printing technology equipment exhibition" has won the acceptance of the industry widely, and has developed into a professional paper industry well-known brands. Organizers said, "in numerous under the support and participation of the industry, the brand exhibition will make greater breakthrough and ascension, and will become China's paper industry famous annual learning, communication, make friends, to visit, procurement trading platform, let's get together again on November 6 to 8, 2013 in suzhou."