●Through about 24 years'development,we insisting on the management idea of "creditable Wanlian,keep improving,honest cooperation and co-progress",the company expects to grow together with customers,and creat a win-win.
●The company insists on standardized process management;there is clear organizational structure,and different departments have definite work division and perform mutual coordination.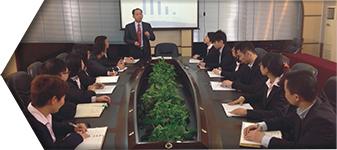 ●Advanced SAP computer management system is introduced;complete sort module management system for customer and suppiler archive,quantitative customer order,production order,material purchase,production process,installation inspection,packing and warehousing,financial information is estalished,which ensures the completeness,effectiveness and normativity of information,reduces the risk caused by manual entry,largely improving the production efficiency and product quality.
●Professionlism is exprssed by detail.We strictly control the machinery quality by controlling the quality of each part.Dependent on the advanced CNC machining center,we are able to research & develop and manufacture the machinery that can meet customer's high technical requirements.
●Advanced production management system is combined to realize intelligent NC,realizing more humanized production line operation and improving the economic benefits.
●We insist on producing high-quality products and perform continual technical innovation for products,and we have passed multiple quality certifications and been awarded multiple honors.